Looking for websites that list remote work and side gigs can be frustrating. Most of the traditional job boards don't offer an easy way to find these types of opportunities (yet).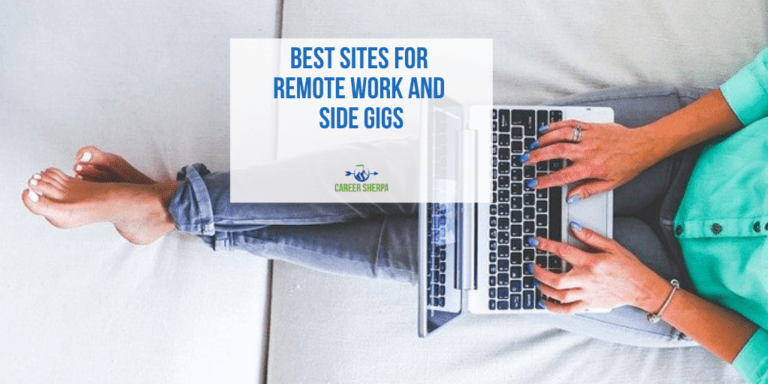 Finding sites for remote work and ones that only list legitimate part-time, work from home (wfh), or freelancing assignments can be challenging.
But this is changing. More employers are open to the idea of remote workers and more workers want to work remotely.
In fact, Buffer's 2019 State of Remote Work Study found that 99% said the 2,500 remote workers surveyed said they would like to work remotely at least some of the time for the rest of their careers.
The number one benefit cited for working remotely is a flexible schedule. Followed by being able to work from any location.
For the next few months, due to the coronavirus, we will only be able to work from home.
Luckily, sites for remote work and side gigs are growing mostly because these freelancing options are more widely accepted by employers.
Whether you are looking for a side gig, freelancing opportunities or remote work, these are sites that might help you find additional sources for opportunities.
If you are looking for the best traditional websites, visit Top Job Search Websites for 2020
Websites For Side Gigs
These sites allow you to search for freelance work, contract work, side gigs, projects, and more.
FlexJobs.com
FlexJobs features remote and flexible jobs from the widest range of categories such as data entry, transcription, HR and 50+ other categories. They hand-pick every job to ensure it is legitimate. There is a cost to this site of $29.95 for 3 months (other pricing options are available).
Freelancer.com
Freelancer allows you to search for jobs as well as create a work portfolio so people looking for specific skills/project work can search for you.
FreelanceWriting.com
Freelance Writing features Journalism, Content, Copywriting, and Blogging Gigs. It aggregates opportunities from a variety of sources. You can filter jobs by skills such as Writing, Copywriting, Blogging, Social Media, Editing / Proofreading, Technical Writing, Journalism, and Other.
Guru.com
Guru features freelancing jobs in categories such as Programming & Development, Design & Art, Writing & Translation, Administrative & Secretarial, Business & Finance, Sales & Marketing, Engineering & Architecture, Legal and Other.
You can sort jobs by hourly or fixed priced. You can also search by how many people have bid on the job as well as the country the job is located in.
LinkedIn Profinder
LinkedIn Profinder lets you post your services. You will either be asked for a bid/quote or you can submit a bid/quote for a project. To learn more about how Profinder works, visit LinkedIn's page.
Sologig
Sologig is dedicated to Engineering and IT Jobs.
UpWork
Upwork is a service that helps connect professionals and agencies to businesses seeking specialized talent. in fact I use a designer on UpWork to create some infographics for me.
Fivrr
Fivrr allows you to post services that you would offer starting at $5.
Craigslist
Craigslist allows you to post your services and search for businesses looking for your services. Just be extremely cautious.
Websites for Remote Work
Here are some of the top sites to help you find reliable sources of legitimate remote jobs.
New sites appear regularly, so try searching the web for your job title and remote and see what other job boards might be suitable for the type of work you are looking for.
LinkedIn
LinkedIn offers a "remote" filter in the advance job search options.
WeWorkRemotely.com
WeWorkRemotely claims to be the largest remote job board with over 2.5 monthly visitors.
Remote.co
Remote offers a wide range of job titles beyond the traditional programming type jobs.
VirtualVocations.com
VirtualVocations also features a wide selections of telecommuting or virtual jobs.
WorkingNomads.co
Working Nomads currates remote jobs.
Other Options for Side Gigs
Delivery

Driving 

Virtual Assistant

Teaching and Tutoring 

Care Giving

Survey and Consumer Feedback

Moving and manual labor

Customer Service

Editing and Proofreading
The options for work from home (wfh) jobs is opening up quickly and companies are more open to the idea of having remote employees.
ABOUT JEFF ALTMAN, THE BIG GAME HUNTER
Jeff Altman, The Big Game Hunter is a coach who worked as a recruiter for what seems like one hundred years. His work involves career coaching, all as well as executive job search coaching, job coaching and interview coaching. He is the host of "No BS Job Search Advice Radio," the #1 podcast in iTunes for job search with more than 1700 episodes and "The No BS Coaching Advice Podcast" and is a member of The Forbes Coaches Council. "No BS JobSearch Advice Radio" was named a Top 10 podcast for job search. JobSearchTV.com is also a Top 10 YouTube channel for job search.
Are you interested in 1:1 coaching, interview coaching, advice about networking more effectively, how to negotiate your offer or leadership coaching? Schedule a free Discovery call.
If you have questions for me, call me through the Magnifi app for iOS (video) or PrestoExperts.com (phone)
JobSearchCoachingHQ.com offers great advice for job hunters—videos, my books and guides to job hunting, podcasts, articles, PLUS a community for you to ask questions of PLUS the ability to ask me questions where I function as your ally with no conflict of interest answering your questions.  
Connect with me on LinkedIn. Like me on Facebook.
Join and attend my classes on Skillshare. Become a premium member and get 2 months free.
Watch my videos on YouTube at JobSearchTV.com, the Job SearchTV app for FireTV or BingeNetworks.tv for AppleTV, Roku and 90 other devices
Join Career Angles on Facebook and receive support, ideas and advice in your current career and job.
You can order a copy of "Diagnosing Your Job Search Problems" for Kindle on Amazon and receive free Kindle versions of "No BS Resume Advice" and "Interview Preparation." If you are starting your search, order, "Get Ready for the Job Jungle."
Would you like to talk through a salary negotiation or potential negotiation you're involved with? Order and schedule time with me.
Do you have questions or would like advice about networking or any aspect of your search. Order and schedule time with me.
Would you like me to critique your resume. Order a critique from me
Jeff's Kindle book, "You Can Fix Stupid: No BS Hiring Advice," is available on Amazon.